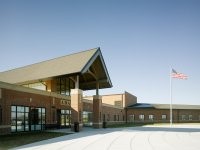 Ada Elementary
725 West North Avenue
Ada, OH 45810
Email Ada Elementary
Principal: Jeremy Clark
Administrator: Robin VanBuskirk
Important Numbers:
Fax 419-634-3948
Main Office 419-634-2341
School Hours
School begins at 8:05 AM and dismissal is 3:00 PM
**Building opens at 7:45**
Transportation information: Send Email
General Information
Building Security
For the safety and security of our students and staff the parent drop-off point for students in the morning will only be the south parking lot. Parents are not permitted to accompany their child to their classrooms. If a parent needs to speak with a teacher, they must make an appointment through the office secretary.
Parent Pick Ups/Drop Offs
When dropping off or picking up your student, please pull forward as far as possible in the line, drop off or pick up your student and exit. This keeps traffic flowing quickly and safely. Please use caution and drive slowly to ensure the safety of students. Parking lot monitors are there to assist. Please follow their directions.
Transportation Changes
All transportation changes should be sent in writing to the office or teacher in the morning. Please be sure to include your child's name and teacher's name on your note. If we do not have a note stating otherwise, students will be put on their scheduled bus route. No changes will be taken after 2:00 pm. All student pick ups and drop offs must take place in the front (north) parking lot.
Party Invitations
Please remember that we do not allow distribution of invitations to personal parties at school unless all children in the class are invited.
Follow Us!
See what is happening at Ada Schools by following us online at Facebook and Twitter! Find us on Facebook by searching for AdaBulldogs and on Twitter at @Ada_Schools.